At first glance, the inclusion of a gingerbread house building competition seemed to deviate from the norm of the events I feature in the weekly and monthly LOVIEEs. It is an artistic event of sorts (architecture is a discipline of art). I honestly didn't know what I was about to see when I left the house this morning. Again, this is an event I'm wishing I had known about in time for the monthly LOVIEE.
And now that I'm back, my reaction in a nutshell: Holy cow. That's pretty much the impression I'm left with after getting back from this exciting midday. I have never had the chance to watch an event similar to this, and I am very glad I was able to see what has been promoted as the first annual event of many to come. Let's just say I'm already eagerly anticipating next year's event and may even participate. The length of this post should be a clue as to how much I enjoyed it. In other words, this is going to be a long recap.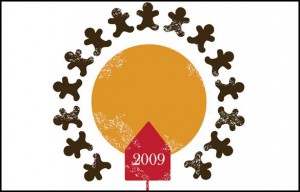 I arrived around 10:15am or so, and four of the eventual six teams had already begun construction, with the Caroline Collective team occupying their spot but not having started yet and initial supplies laid out for the remaining sixth team which would arrive later.
I took a great many pictures in the earliest hour of the competition. This would prove to be a questionable move when my camera would show the "low battery" indicator well before judging time. I did, however, get pictures of the completed houses as they stood at judging time (and I use that term a bit loosely in at least one case).
I'll explain how this competition went down, documented with pictures. Each team paid a $25 entry fee through an Eventbrite event listing. There was an announced limit of three people per team (I would assume mainly due to the limited space at Caroline Collective's coworking area). Each team received the following supplies:
six sheets of gingerbread
one tub of frosting
one cardboard sheet covered in aluminum foil
access to a community candy decoration stockpile
This shows the three items, the gingerbread sheets are on top of the foil platform and the white jar next to them is the tub of frosting: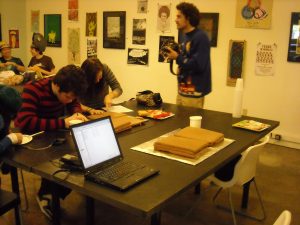 This is the candy stockpile (four pictures; one wider angle, three closer up):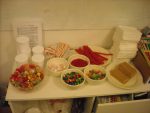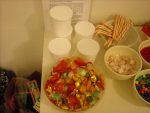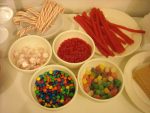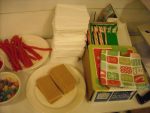 Teams were allowed to bring their own supplies with the restriction that all additional materials be edible. And yes, some teams definitely used other edible materials, most notably: rosemary herbs used by the Caroline Collective team, and sugar glass used by Santa's Florida Summer Home and one other team whose name escapes me at the moment.
Our hosts at Caroline Collective kept a Christmas carols CD playing during the entire time, which I thought was a nice touch, although by the third hour it did get a bit repetitive. The computer used to play the CD did start stuttering quite badly around noon, prompting a few "remix" jokes; if not entirely welcomed comic relief, certainly nobody objected vocally enough that I noticed. A backup plan was quickly activated and we subsequently enjoyed a stutter-free, remix-jokes-free playing of Christmas carols for the remainder of the event.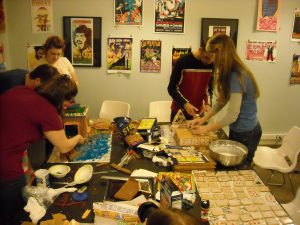 Time marched on and the gingerbread houses began to take shape. A few more spectators arrived. It was then announced there was one hour before judging, which kicked the excitement up a little bit. At this point I was being very careful with the number of pictures I took, having long since triggered the low battery warning on my camera. (Truth be told, I was probably being more conservative than I needed to be, the low battery warning did not come up on power-up, I would take a set of pictures, then the low battery warning would come on again. However, I did not want to be stuck with no battery power at the time of judging.)
So, another forty or so minutes went by. Finally some of the houses were starting to look done. Some, in fact, were done before too much more time went by. The next announcement was twenty minutes until judging. Shortly before judging, the House of Cards team (yes, a gingerbread house made to look like a house of cards) ran into problems when part of their structure, well, folded. They were able to recover most of it prior to judging. I was not aware of other teams running into similar difficulties, at least until…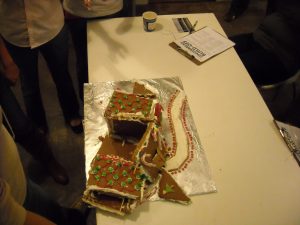 Judging time came at last and the first entry, Casa Dulce, was moved to the judging table. By the time the judges saw it, it was not quite the same, as you can see by the above. One account I overheard stated that it fell before even being moved; the relocation of a few feet, of course, did not help and it was subsequently decided that the judges would review the other entries in place due to concerns that the cardboard was not strong enough to support some of the elaborate edible construction (and nobody was in the mood to see yet another collapsed pile of decorated gingerbread and other edibles). It was later determined plywood would need to be procured for the move of the winning entries to the Architecture Center Houston.
The judges turned in their scores, and after considerable deliberation the winners were announced. But before I get to that, I want to show each of the six finished houses as best I can and offer my own unofficial scores for each, based on the same criteria the official judges used. (It is not a show of preference or disdain that some entries have more photographs shown here than others. Some of my pictures did not turn out that well, unfortunately.)
Santa's Florida Summer Home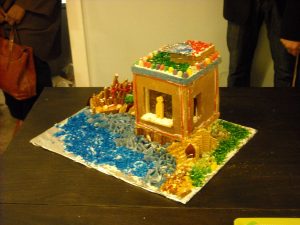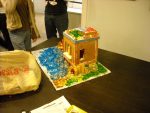 This is a very ornate design. The pictures barely do it justice; it really does look better seeing it in person.
       Structural Soundness:  5
         Decorative Quality:  5
Innovative Use of Materials:  4
             Overall Design:  5
                      Total: 19

Alienz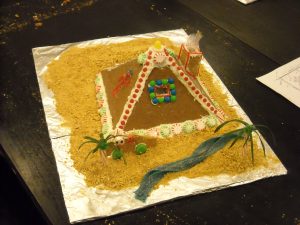 At first I was not overly wowed by the concept of a pyramid-shaped gingerbread house. This turns out being a well-executed concept, maybe not quite as elaborate as some of the others, but great for what it is.
       Structural Soundness:  5
         Decorative Quality:  4
Innovative Use of Materials:  4
             Overall Design:  5
                      Total: 18

Caroline Collective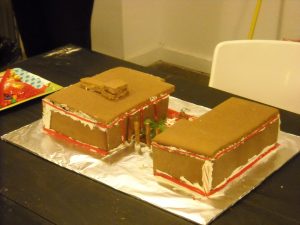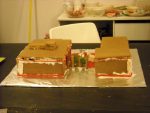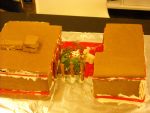 It pains me to say it, but the flashy use of decorative candies by the other entries really makes this one look a bit bland by comparison. It could have been spruced up a bit. Sure, it would then be a hundred times less bland than the exteriors real-life Caroline Collective buildings then, but that would be a good thing.
(These pictures do not show a candy-cane "CC" present on what I assume is supposed to be the front of the building; this design element is visible on some of the other pictures.)
       Structural Soundness:  5
         Decorative Quality:  2
Innovative Use of Materials:  5
             Overall Design:  3
                      Total: 15

Nuclear Winter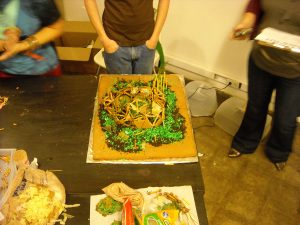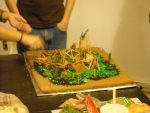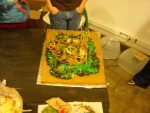 I'm not even sure how this qualifies as a gingerbread house. It's a great concept, though without knowing the title of it, it's a bit hard to tell what exactly the builders were going for here.
       Structural Soundness:  4
         Decorative Quality:  5
Innovative Use of Materials:  3
             Overall Design:  4
                      Total: 16

House of Cards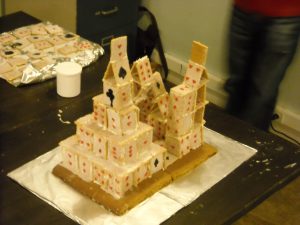 While the premise sounds novel and intriguing, to me, it was a bit of a letdown once it was actually built and put on display. It was fun watching the building process and being struck with awe at the sheer quantity of heart and diamond suit symbols being put onto these icing-covered cards.
       Structural Soundness:  2
         Decorative Quality:  4
Innovative Use of Materials:  5
             Overall Design:  3
                      Total: 14

Casa Dulce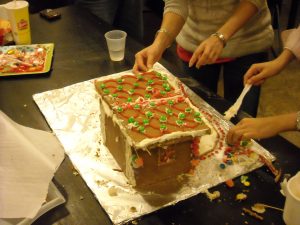 Shown here after it was reassembled post-judging (let's face it, a shot of gingerbread rubble here would be rather anticlimactic).
       Structural Soundness:  1
         Decorative Quality:  5
Innovative Use of Materials:  3
             Overall Design:  3
                      Total: 12

Finally, the official winners were announced. For this, I actually have video. I apologize for the horrible audio quality, the camera is primarily a still picture camera so the video quality is not that great. (I rarely use the video capability of this camera for that reason.)
If you don't feel like watching that whole spiel: third place (tie): House of Cards, Alienz; second place: Santa's Florida Home; first place: Nuclear Winter.
That's a wrap. Here's hoping next year's Gingerbread Build-Off is bigger and better.
[Updated 2019-02-04: Image URLs changed to local server since Flickr is going to be deleting them soon. WordPress has different size options so the new pictures are a bit smaller in the post but the full size is preserved on the site. YouTube video fixed.]