I've been to so many art installation receptions that I now find myself having a hard time getting excited about them, especially enough to write a blog post recapping the event. But this is a huge exception to the rule.
It wasn't quite as obvious that one of the centerpieces of this reception/party was something called "light graffiti." Gonzo247 of Aerosol Warfare and Carolyn KC of CKC StART brought the equipment for this portion of the event. That equipment was four bunches of things: a bunch of red, green, and blue LEDs; a bunch of #2032 3-volt lithium button batteries; a bunch of magnets; and a bunch of tape. These were used to make something called an "LED throwie." (Actually, a whole bunch of LED thowies; see a pattern here?)
The steps for making an LED throwie are:
Grab an LED and a battery.
Put the battery between the leads of the LED, pushing them together so the LED will light. The shorter lead of the LED goes on the shorter side of the battery (positive). It surprised me how well this works out for us; it's almost like the LED and battery manufacturers got together and decided to make life easier for art nerds like us to make LED throwies. Anyway…
Grab a magnet and put it on either side of the battery.
Hold the whole contraption together while grabbing a piece of tape.
Wrap the tape around everything, such that you have a lit LED, battery, and magnet taped together. Try not to use too much tape. (At various points we were using both standard office tape and packing tape.)
Congratulate yourself on making an LED throwie! (Optional; in fact the more you're making, the more optional this is.)
(Slightly technical sidenote: some of the electronics nerds that know LEDs usually only drop 1.5 to 1.7 volts last any significant length of time being powered off a 3 volt battery. The answer to that is that the current coming out of a 2032 battery is just enough to light the LED, and that is really the operative factor here more than the voltage.)
At about 7:30pm or so, after a countdown led by Gonzo247, we all threw our LED throwies onto the side of the (steel) building. This was the result: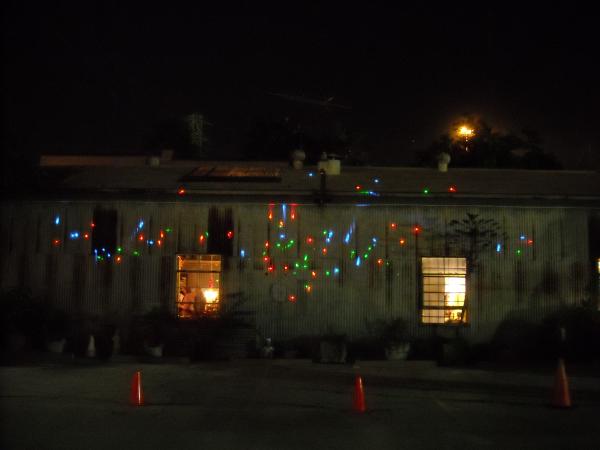 (Yes, a couple of people with lousy aim managed to get theirs onto the roof.)
The other highlights, in summary: "Pristine and Enchanted" a chandelier made from filigreed bleach bottles, with a disco ball inside; several other fantastic pieces I have pictures of and will need to review; and of course, excellent chips and dip and some kind of dessert bread I was told the name of but forgot from Irma's, the Mexican restaurant next door.
Another highlight of the event was an art bike I was shown by one of the other guests, who told me about an upcoming event called Gloworama, a parade for illuminated art vehicles (cars and bikes). I'm going to be looking into this, definitely to promote, possibly even to attend.
I have other pictures; I'll be uploading the whole lot to my Flickr account in the next few days, if time permits. (And that's a big if; I've been made aware of several other events that have completely blown out of the water any notion that there might be light weekly LOVIEEs during holiday weeks, so I may well have my hands full with just weekly LOVIEEs and lining up the December LOVIEE alongside my other blogs and projects.)
Thanks to everyone who made this event what it was, in particular Gonzo247, Carolyn KC, and Mary Margaret Hansen.