To say this show had high expectations from me was an understatement. This was my first time at BFE Rock Club, and long-time readers of my blog can probably guess that the main draw for me was Low Man's Joe. Despite the fact LMJ played several shows after the first time I saw them live in the spring of 2009, I wasn't able to make it to any of them. So this was a big deal for me. I would find out soon that I wasn't the only one. More on that later…
I arrived shortly before 9pm and the first act, Eficin, would not take the stage until 9:30pm. So I had a pretty good opportunity to check out the place. It's pretty much your standard music-oriented venue, with the exception that there are video games, pool tables, and dart boards which see a fair amount of use given that not everyone will be a huge fan of every musical act to take the stage.
Eficin takes the stage at around 9:30pm (my first picture has a timestamp of 9:35pm). They set up with an additional drumset on the lower stage as Serpent's Son had already set up their drums in the usual drum slot. This was my first time seeing Eficin, though to better familiarize myself with the band I would leave at the end with a four-track demo from the band on CD-R. They started with a tune called "Destruction", later in the set was one of the songs from the demo, "Hitman". I will admit Eficin is a bit outside what I consider my usual personal tastes in music, but speaking objectively I see a lot of talent and a lot of potential in this act.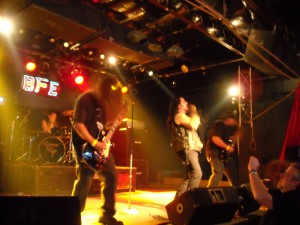 Next would come Serpent's Son, who took the stage at around 10:05pm (my first picture timestamp was 10:15pm). For some reason I wasn't expecting their set to begin this soon and so half-missed the first song or two of the set, still playing Cattle Drive on the Megatouch machine at the bar. It's no big deal, though, as I got to see enough of Serpent's Son. I don't remember much of their set list, but I do look forward to seeing them perform again.
It would be a good twenty minutes after the conclusion of Serpent Son's set before Low Man's Joe (LMJ) would take the stage. And the entire set was simply amazing, from beginning to end. They opened with one of the new songs, "Crazy Carnival". Since it's not on an album yet, and I don't yet see video of the actual performance at BFE, for the benefit of those who don't know the song or who have never heard of LMJ until now, here is "Crazy Carnival" being performed by LMJ at Acadia back in March. This song has me instantly wanting to buy the album it's on, the same way I bought the first album (titled "Where I Stand") for "I'm Alive" back in 2009. After this song, my memory of the set list gets a bit fuzzy, but I remember "Troubled Child" and "Temptation" from the album in the middle of the set, and an amazingly strong close with "Radio Saved My Life Tonight" also from the album (with a segue into The Who's "Baba O'Riley" in the middle, which honestly I'd like to see performed as a separate song one day). The sum total of all this: if there was any doubt in my mind that the LMJ crew still had their mojo, that doubt was long gone after this set (actually, by the end of "Crazy Carnival").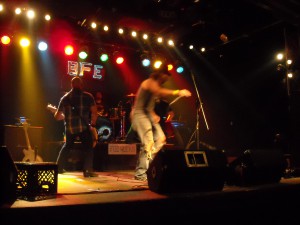 It was pretty obvious after LMJ left the stage that a large portion of the crowd was there to see only LMJ as when Hounds of Jezebel (HOJ) started playing, the area near the stage was empty by comparison. I honestly did try to maintain at least some of the enthusiasm for HOJ, as they certainly deserved it. This proved quite difficult for two reasons: first, I was already nearing exhaustion; second, it's really hard to maintain the same level of energy with maybe five or six hardcore fans in the audience versus fifty or sixty (or more, as I think we may have had close to 100 people there during the LMJ set). I'm not familiar at all with HOJ's repertoire so I'm not even going to try to remember specific songs they played, I enjoyed the set and definitely hope to hear them play again soon. Their style is a bit more metal than LMJ, yet isn't the "scream metal" some people hate; I did think highly enough of what I heard to make a last-minute addition to the weekly LOVIEE of HOJ's show at Dan Electro's the following night, and will probably be featuring them again on the blog in the future. HOJ also has an album due to come out "late June or early July" with a show smack dab in the middle of that time frame which is a possible album release show.
Anyway, I definitely needed a break after the HOJ set, so I missed the vast majority of the 12 Gauge Awakening set, instead spending the time near the pool tables and then later outside. The crowd had thinned out to mostly the other band members, the diehard party animals with no set bedtime, a photographer (not sure if she was BFE staff or just doing some freelance photojournalism), and of course, one exhausted blogger trying to recover before the walk home (that's me). I did get to talk to some of the members of Eficin and a couple of the members of (I think) Hounds of Jezebel (and for whatever reason I'm at a complete loss for names right now, I know you guys told me but my memory isn't what it used to be). By the time 2am rolled around, I was ready to head out. I had a blast, and I hope this is the first of many great shows at BFE I'm able to attend.